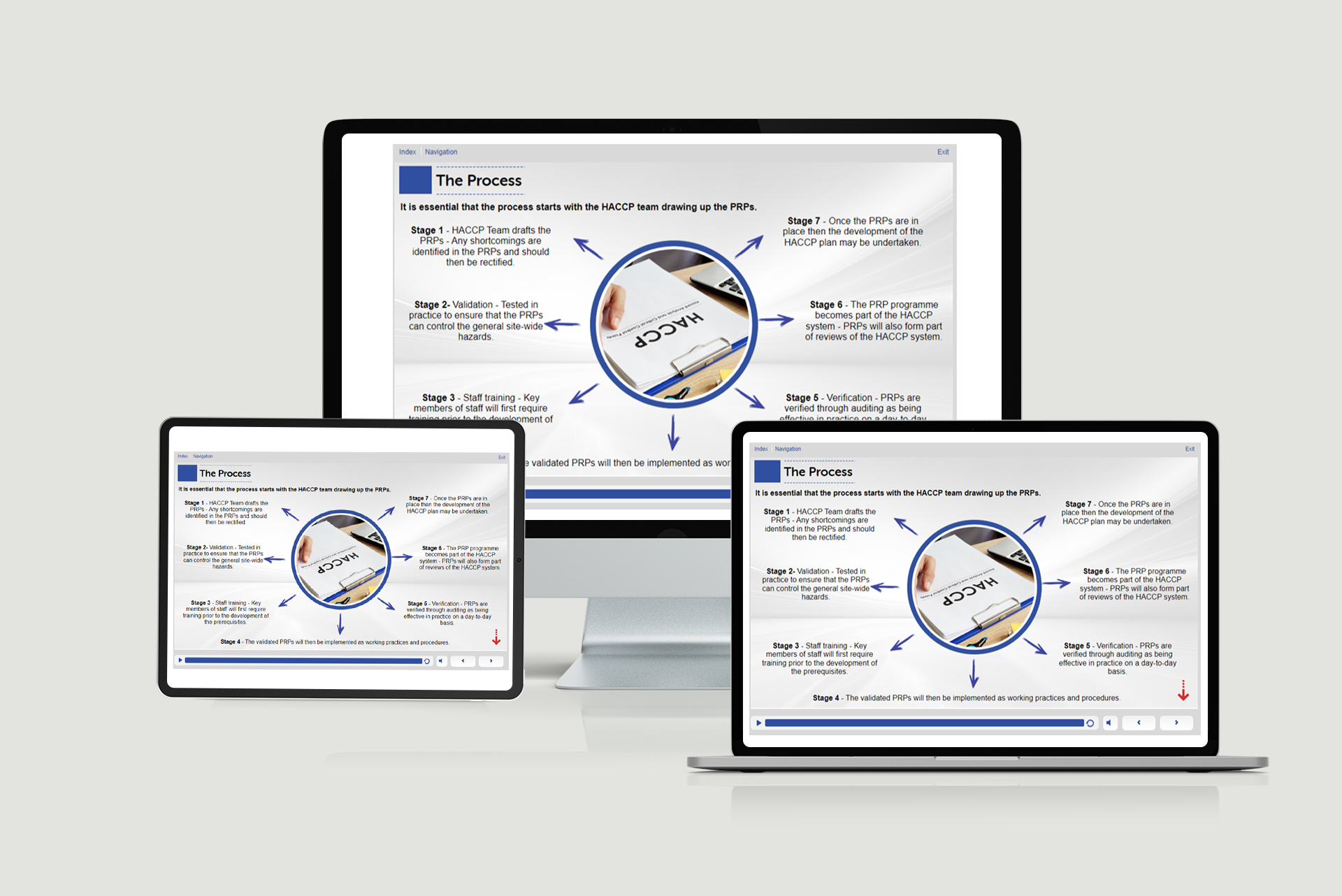 Level 3 Managing HACCP Licences
HACCP Level 3 training is designed to provide a greater depth of understanding of the principles, development and implementation of a successful food safety management system. This is designed for those with management or supervisory responsibility and equips delegates with the necessary skills to successfully manage a HACCP system.
Cost:£95 (Members), £98 (Non-Members), all plus VAT, per delegate
Duration: 4-6 hours
For help purchasing courses please CLICK HERE
Training Course Content

This course is made up of the following modules:

An Introduction to Level 3 HACCP in Managing:
This section introduces the learner to the course. It looks at how the in-depth ways in which HACCP can be implemented and maintained effectively in a business following best practice, its benefits and the costs to consumers and to businesses should the standards not be met and maintained throughout each of the food processes.
However, HACCP (Hazard Analysis Critical Control Point) is a proactive rather than a reactive food safety management system designed to ensure food remains safe at every stage of the process.

Module 1 – Food Safety Management and HACCP:
This module explores what HACCP is; it's origins and how it was developed. It looks at Codex HACCP guidelines and why it is important to implement effective HACCP systems into a food business.
Module 2 – Food Safety Hazards and Their Control:
This module works as an introduction to food safety hazards and contaminants. It looks at how to prevent contamination and the survival of multiplication of pathogens in food.

Module 3 – Prerequisite programmes (PRPs):
This module covers Prerequisite Programmes (PRPs) and how to develop, design and implement effective PRPs as part of a HACCP system.

Module 4 – Preliminary steps to developing a HACCP plan:
This module concentrates on the five preliminary steps to HACCP, such as how to assemble a HACCP team, identifying high-risk groups and environments, and other essential steps to developing a HACCP plan.

Module 5 – Steps 6 to 12 of the Codex Twelve Step Logic Sequence:
This module is split into 7 sections concentrating on the codex principles. It looks at what each principle entails and how to implement these controls in a successful HACCP system.

Learning Objectives
On completion of the course, delegates should be able to:

Identify the importance of HACCP-based food safety management systems
Recognise and identify hazards and risks
Identify what should be included in pre-requisite programmes and their importance
Implement effective HACCP principles within a food business/environment
Describe what is included within a HACCP plan and why it is essential
Recognise Critical Control Points (CCPs) and how to put corrective action procedures in place
List the five preliminary steps included in the application of HACCP
Identify what a PFD (process flow diagram) is and how it can be useful in managing a food business
Assessment
On completion of the course lessons and training material an online assessment will automatically unlock. The assessment will contain 45 multiple-choice questions and a mark of 75% or above will be required to pass. The assessment will be marked instantly so delegates will know straight away if they have passed. If they don't pass first time there's no need to worry. Unlimited resits at absolutely no additional charge are available so the assessment can be taken again as many times as required.