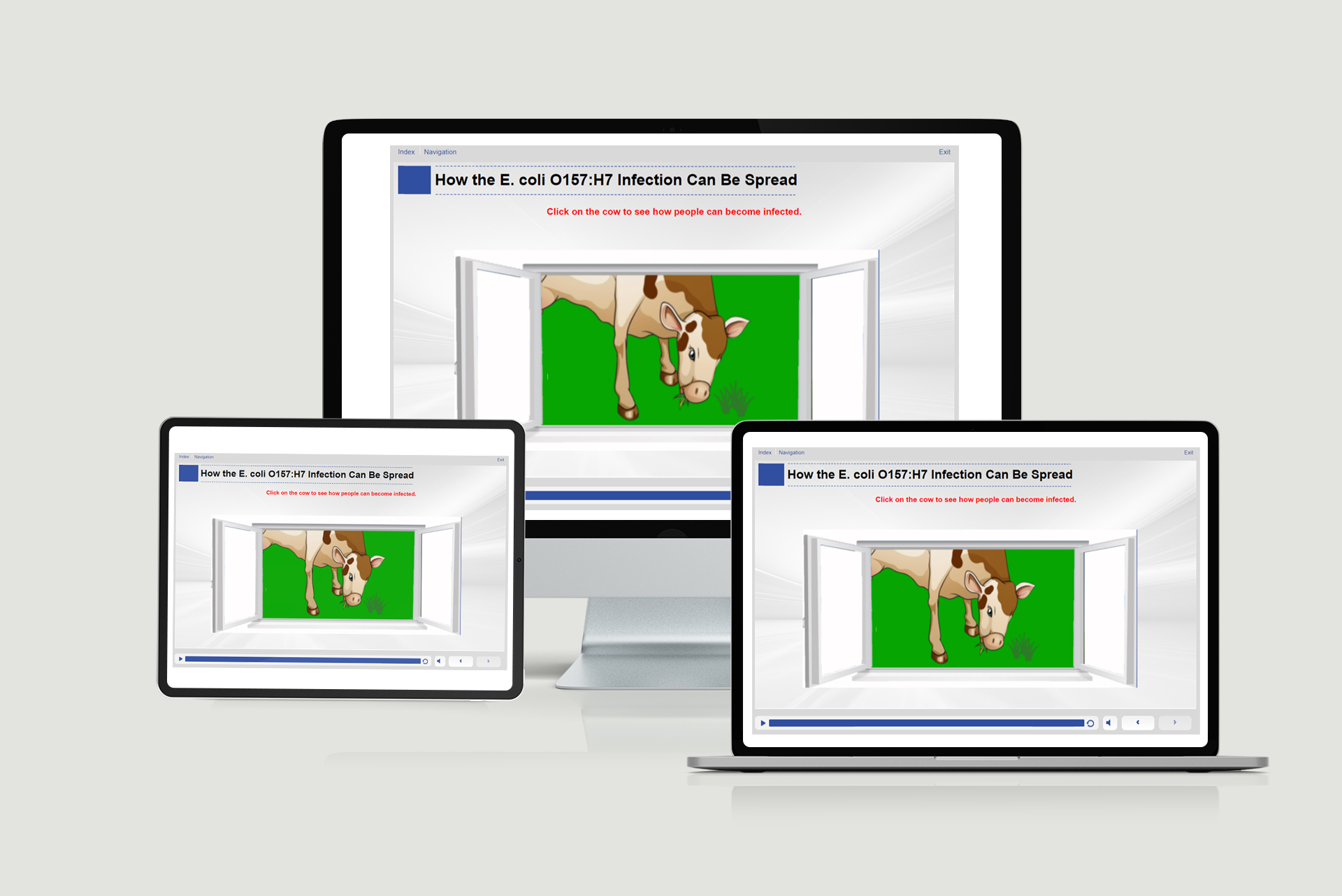 E.coli O157:H7 – Understanding Licences
This entry level course has been designed to provide the user with a key understanding of the nature, reservoirs and mechanisms of spreading this pathogenic micro-organism as well as the key control measures that can be used.
Cost:£25 (Members), £28 (Non-Members), all plus VAT, per delegate
Duration: 2 hours
For help purchasing courses please CLICK HERE
Training Course Content
This course is made up of the following modules:
Introduction to Understanding E. coli
This section informs the learner what content will be featured in the training course, as well as a key recommendation summary.
Section 1 – Understanding E. coli
This section covers topics such as what is E. coli, how it can spread and its symptoms. It also highlights the groups at most risk, what can be done to prevent infection, and how to protect others. To help understand the spread, it also discusses how the introduction of HACCP can help and how safe food hygiene practises can reduce the chances of cross-contamination.
Section 2 – The Spread of E. coli
This section looks at how the infection can spread by carefully looking at different but highly probably scenarios such as in a food factory, a school, a supermarket, a restaurant and a residential home.
Section 3 – HACCP Principles
In this section, HACCP will be looked at via its seven principles. These principles include conducting a hazard analysis, where significant hazards are likely to occur to record-keeping, and the act of recording information that can be used to prove that the food was produced safely.
Learning Objectives
On completion of the course, delegates should be able to:
Explain what E. coli O157 is
 Explain how E. coli is spread
 Describe the symptoms of E. coli
 Identify those in a high-risk group
 Explain how to treat E. coli
 Explain how to prevent the spread of E. coli
 List the principles of HACCP
 Explain poor and safe food hygiene practices
 List some recommendations
Assessment
On completion of the course lessons and training material an online assessment will automatically unlock. The assessment will contain 30 multiple-choice questions and a mark of 75% or above will be required to pass. The assessment will be marked instantly so delegates will know straight away if they have passed. If they don't pass first time there's no need to worry. Unlimited resits at absolutely no additional charge are available so the assessment can be taken again as many times as required.