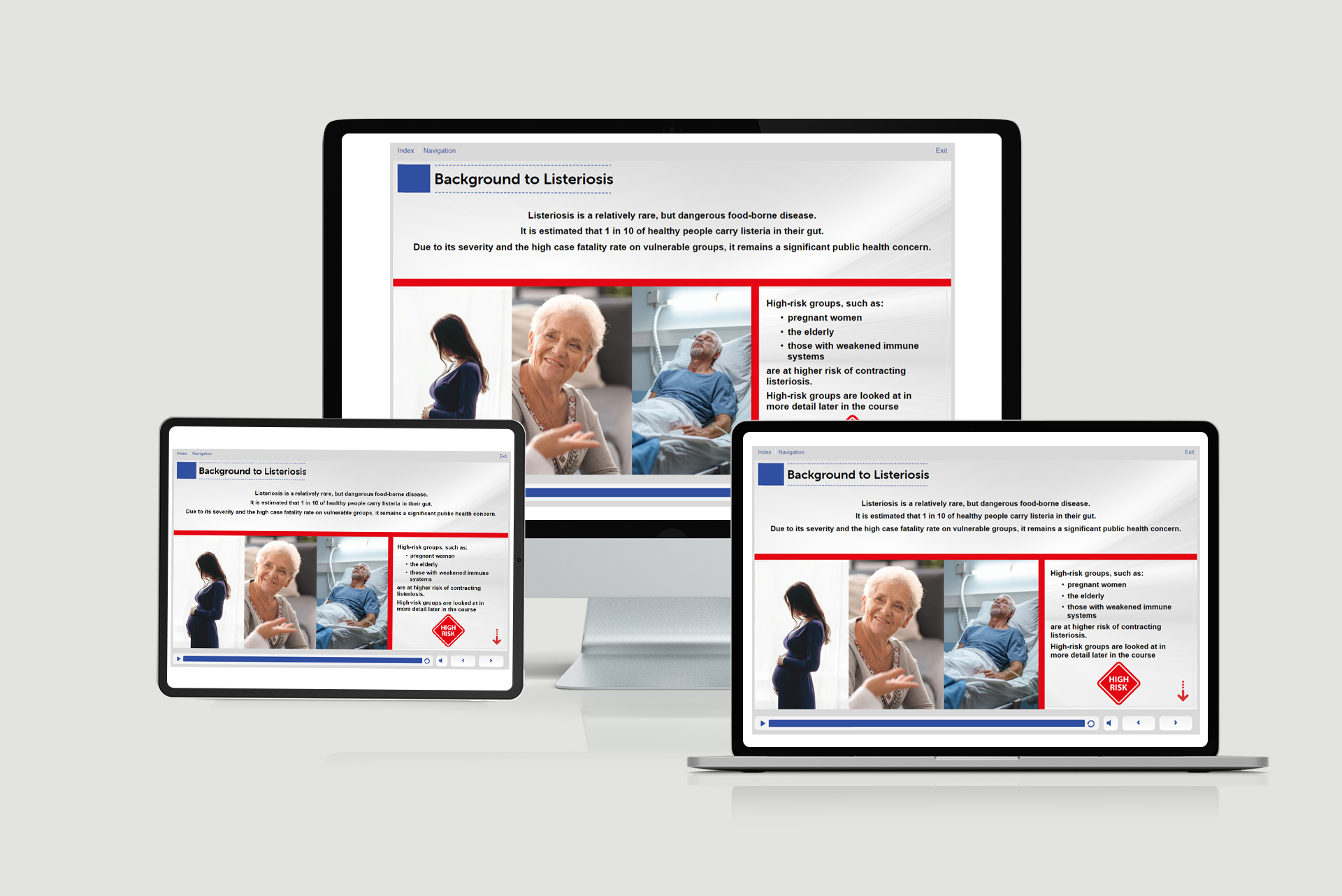 Listeria Monocytogenes Awareness
This course will examine the practical identification, management and control of Listeria species in a food, dairy or beverage processing environment.
Cost: £25 (Members), £28 (Non-Members), all plus VAT, per delegate
Duration: 60 minutes
To purchase this course multiple times to distribute to other users please CLICK HERE
For help purchasing courses please CLICK HERE
Course Content
This course is made up of the following modules:
An Introduction to Listeria Monocytogenes Awareness
This section introduces the learner to the course. It explains what Listeria monocytogenes is and how it can be killed.
Module 1 – The Risk of Listeria
This section of the course concentrates on where Listeria can be found and how the infection is caused. It looks at the symptoms of infection and the vulnerable groups who are at high risk, which, if infected, can have serious consequences to health.
Module 2 – Food Manufacturing and Handling
This section of the course covers how outbreaks of Listeria can be caused by poor food manufacturing or food handling. It looks at a case study that shows a recalling of food products due to Listeria contamination.
Module 3 – Personal Hygiene and Cleaning
In this final section, you cover the importance of personal hygiene when working with food. This includes how to wash hands properly and maintain appropriate hand hygiene. It also looks at how thorough cleaning should always be practised in order to avoid contamination or cross-contamination.
Learning Objectives
On completion of the course, delegates should be able to:
Explain what Listeria monocytogenes is
 Explain where it is found
 List who is at most risk
 Explain how the infection is caused
 Identify the symptoms of the infection
 Explain how to prevent it
 Explain what good personal hygiene is
 Wash your hands effectively
 Explain what good hygiene practices are in RTE (Ready-To-Eat) areas
 Explain the importance of adopting good food and personal hygiene practices
Assessment
On completion of the course lessons and training material an online assessment will automatically unlock. The assessment will contain 20 multiple-choice questions and a mark of 75% or above will be required to pass. The assessment will be marked instantly so delegates will know straight away if they have passed. If they don't pass first time there's no need to worry. Unlimited resits at absolutely no additional charge are available so the assessment can be taken again as many times as required.