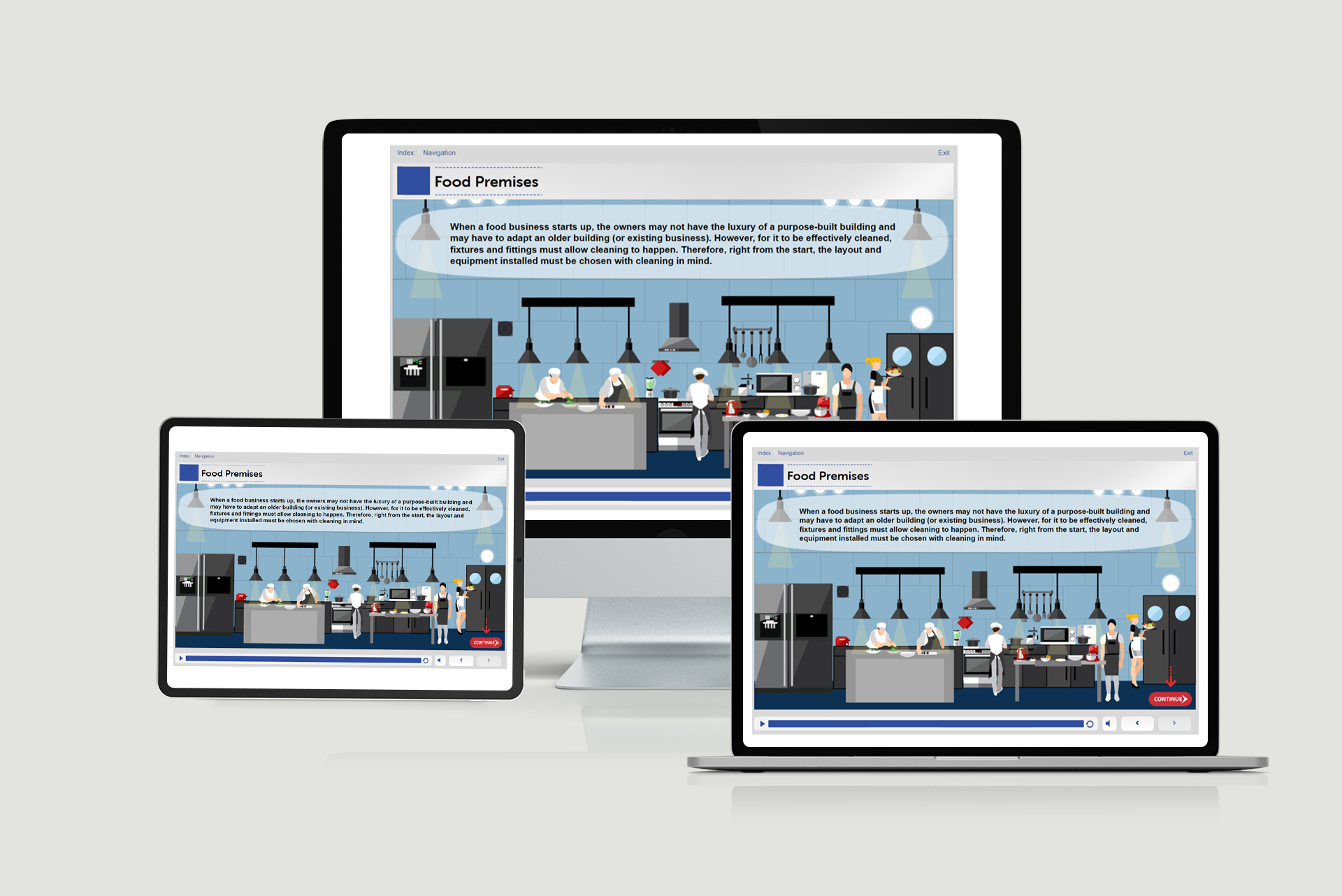 Cleaning in the Food Industry Licences
A subject which is key to all food businesses. Clean premises and ensuring effective cleaning regimes are in place and practised is a legal obligation in order to prevent food contamination.
Cost: £25 (Members), £28 (Non-Members), all plus VAT, per delegate
Duration: 90 minutes
For help purchasing courses please CLICK HERE
Training Course Content
This course is made up of the following modules:

An Introduction to Cleaning in the Food Industry:
This section introduces the learner to the course. Clean premises and equipment are probably the most important factor in achieving good wholesome food. Understanding cleaning and cleaning methods are vital.

Module 1 – Removing Hazards through Cleaning:
This module concentrates on food premises and how the design and layout of a building are important to allow sufficient movement of staff and storage that follows HACCP (Hazard Analysis Critical Control Point) principles.
It also looks at Clean In Place (CIP) and why clean as you go methods are highly important and often the best practice.
Module 2 – Using Cleaning Chemicals Safely:
This section of the course covers the different types of cleaning chemicals and energies that can be used when cleaning. Gaining an understanding of these chemicals and what they do is essential when conducting any cleaning task.
Health and safety practices should always be maintained when using cleaning chemicals; this module looks at the risks and hazards surrounding cleaning chemicals, including COSHH (Control Of Substances Hazardous to Health).

Module 3 – Safety Cleaning Procedures:
In this final section, you will cover what cleaning procedures are to be undertaken, before or during any cleaning activity. It also looks at the importance of using safety data sheets and maintaining a colour-coding system to prevent contamination to food. Alongside this, it also looks at the six-stage cleaning procedures and how to conduct a cleaning schedule.
Finally, this module considers how people or staff members can be considered as food safety hazards themselves. This means that taking extra precautions when cleaning within food premises, such as maintaining good personal hygiene and washing hands thoroughly.

Learning Objectives
On completion of the course, delegates should be able to:

Identify the importance of cleaning
Identify the purpose of HACCP and its origins
List the requirements of food premises for cleaning purposes
Identify the properties and methods of dishwashing
Explain the terms 'CIP' and 'clean as you go'
Explain the role COSHH plays in the food industry
Recognise hazard pictograms
Identify the reasons for cleaning clothing and PPE
List the chemical storage principles
Identify the difference between hazards and risk
List the HSE 5 points to a risk assessment plan
Recognise common chemicals used in the food industry
Identify the importance of colour-coding
Recognise cleaning procedures
Identify the roles of cleaning personnel, in house and contract
Explain what cleaning schedules are
Identify the importance of correct storage of cleaning equipment and waste disposal
Assessment
On completion of the course lessons and training material an online assessment will automatically unlock. The assessment will contain 30 multiple-choice questions and a mark of 75% or above will be required to pass. The assessment will be marked instantly so delegates will know straight away if they have passed. If they don't pass first
time there's no need to worry. Unlimited resits at absolutely no additional charge are available so the assessment can be taken again as many times as required.