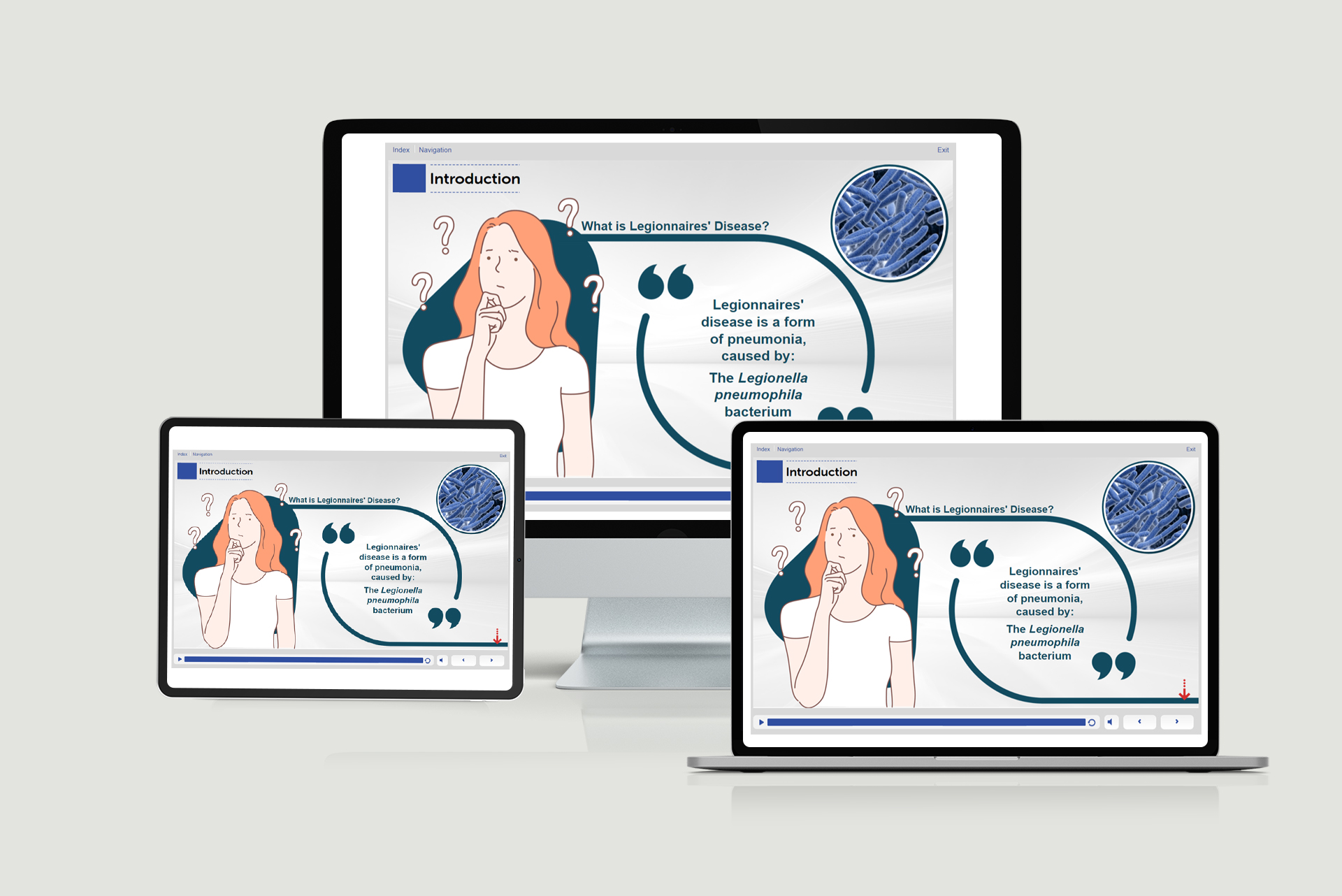 Legionnaires Disease – Understanding
The aim of this Understanding Legionella Disease Training course is to give all those who work in environmental conditions which could encourage the multiplication of the Legionella bacteria, the level of knowledge required to minimise the risk of infection and risk to health from the Legionella bacteria.
Cost: £25 (Members), £28 (Non-Members), all plus VAT, per delegate
Duration: 2 hours
To purchase this course multiple times to distribute to other users please CLICK HERE
For help purchasing courses please CLICK HERE
Course Content
An Introduction to Legionnaires Disease
This section introduces the learner to the course. It explains what Legionnaires disease is and what bacteria causes it.
Module 1 – Sources of Legionella
This section of the course concentrates where legionella bacteria lives and how it can be found. It looks at the nutrients that Legionella needs to multiply.
Module 2 – Employers Responsibilities
This section of the course covers what the employer's responsibilities are when it comes to minimising the risk of legionnaire's disease and the relevant legislation relating to this. It also looks at what high-risk groups there are, and the risk assessments that need to be in place.
Module 3 – Health and Safety
In this final section, you will cover what PPE (Personal Protective Equipment) is needed when undertaking tasks that may cause a risk to health. It also looks at other tasks which can be considered as a risk if not undertaken safely, such as working at height and working in confined spaces.
Learning Objectives
On completion of the course, you should be able to:
Explain what Legionella is
Identify the symptoms of Legionella
Explain where it is found
Explain how people can become infected
Explain how to control the Legionella bacteria
Explain what the managers' and employers' responsibilities are
Carry out risk assessments and keep relevant records
Explain the relevant legislation
Explain relevant health and safety issues relating to PPE, working in confined spaces and working at height
Assessment
On completion of the course lessons and training material an online assessment will automatically unlock. The assessment will contain 30 multiple-choice questions and a mark of 75% or above will be required to pass.
The assessment will be marked instantly and so you will know straight away if you have passed or not. If you don't pass first time there's no need to worry. Unlimited resits at absolutely no additional charge are available so you can retake the assessment again as many times as you need to.